What is your topping today?
Introducing Monte Pizza Crust's PIZZA KIT. The new 'runner' in your Italian frozen food line.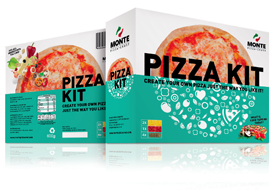 Pizza Kit Frozen: A convenient package consisting of 4 pizza crusts, 2 sachets of cheese mix and 1 sachet of pizza sauce to prepare a traditional Pizza Margherita. Have it for lunch, dinner or as a tasteful snack in between meals. And what is your topping today? Add all the fresh ingredients you want to create a personal tasting pizza within minutes. Ideal and fun for children.
Inspired? There is more
attractive, off the shelf, retail packaging;
perfectly suited for private label purposes;
ideal diameter (7 inch pizza crust), box 210 x 180 x 65 mm;
competitive pricing;
traditional product with honest ingredients;
trusted supplier that understands your business;
brand new concept that meets the current trend in food business: Convenient - Customized - Family oriented - Snack in between meals.
Samples
Does the Pizza Kit trigger your imagination? Do you want more information or do you want to present the concept to your prospects and clients? Please let us know. We are happy to send you additional information and samples for testing and tasting. Call our office at: +31 76 501 49 00 or send your email to: sales@montepizzacrust.nl
2014-02-11